Adam Wells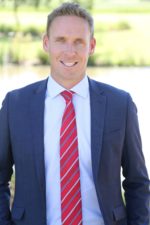 Registered Real Estate Consultant
Adam joined Elders in 2014, bringing with him a prolific sales and customer service background as well as an energy and enthusiasm to assist all customers in any way possible.
Adam grew up locally and has been involved in local sporting clubs and teams from a young age. He continues to stay active within the sporting community by playing senior cricket in Dubbo and spending time with his young family is a real joy of his. Being a young dad Adam understands the complexities a family has to juggle when buying and selling and has made this process simple for so many families.
Adam has worked around Australia performing Youth & Community Work, but it has been with Sales and Customer service that he has really found his passion.
The work he has done with each and everyone of his clients has been amazing, he is always willing to go that extra mile and deliver results above expectations time and time again.
Adam is excited to meet with as many buyers and sellers as possible and is willing to go the extra mile to satisfy you during each transaction.
02 6881 7800
02 6881 7888
0422 147 167
After Hours: 0422 147 167