Graeme Stapleton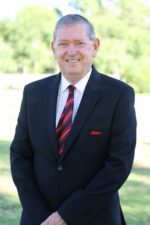 Licensed Real Estate Agent & Property Valuer
Graeme has been with Elders Real Estate for over 15 years, and has in excess of 40 years' experience in all aspects of Residential, Lifestyle, Retail, Commercial and Industrial Real Estate.
He is a third generation resident of Dubbo, a life member of the Apex Club of Dubbo and a current board member of the Macquarie Club Dubbo. The takes a keen interest in local community and sporting activities, being a life member of the Dubbo Rugby Cricket Club, past president of the Dubbo Junior Cricket Association, and maintains an active role within the Real Estate Institute of NSW, Orana Division.
Graeme is one of Dubbo's most accomplished real estate professionals and provides all clients with an unparalleled qualified and professional consultancy service.
Graeme has earned his reputation for trustworthiness and integrity and has been awarded with numerous awards for residential and lifestyle sales including:
No. 3 NSW/ACT Residential Sales Person of the Year (2016)
No.3 NSW/ACT Residential Sales Person of the Year (2017) 
02 6881 7800
02 6881 7888
0427 822 805
After Hours: 0427 822 805