Blanche Robinson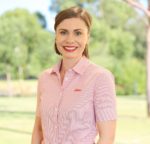 Branch Manager - Licensed Real Estate Agent
I have been with Elders since 2005 and started my career as part of the NSW Real Estate Management Team in Dubbo. This role had me extensively involved in both rural and residential Real  Estate Marketing and Training. In 2009, I joined the Elders Real Estate Residential sales team and haven't looked back!
Born and raised in the Dubbo district, I love living in  Dubbo and enjoy being a part of the community. I am an active member of the Dubbo Touch Football Association and have been on the committee for a number of years. I currently assist with the running of both Junior and Senior areas of the Club. I participate in the local Touch competitions, and also enjoy playing at a Representative level.

I am a fully Licensed Real Estate Agent, who specialises in the Sale of Residential and Lifestyle properties and am highly regarded by my peers due to my exceptional sales record. I believe honesty, integrity and exceptional customer  communication, as well as an eye for detail are my key attributes. 
o   Licensed Real Estate & Stock & Station Agent
o   Certificate IV in Business Management
o   Accredited Auctioneer
o   Over 10 years Service with Elders Real Estate
o   Life time resident of Dubbo & area 
02 6881 7800
02 6881 7888
0439 132 136
After Hours: 0439 132 136